Legend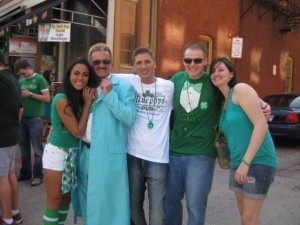 has it, St. Patrick banished all the snakes out of Ireland. Historians say it isn't fact, but rather years of exaggerated story telling. I, Superpimp, who some say has been around for a lot of history (Ha!) say it is true. He rounded all of them up and sent them to Pittsburgh.
All I know is, St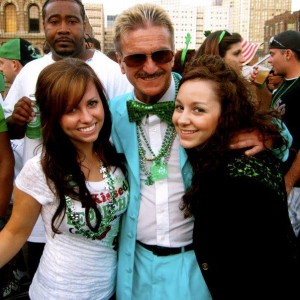 Patrick must have made himself a honorary Clevelander after witnessing the party our wonderful people and city threw for him. I think he was a little surprised to see how many people of different races, colors, and creeds claimed Irish heritage last Saturday.
I got downtown about 10:00am on Saturday after not getting home Friday night until 4:00am. ( Pimpin' ain't easy.) My good friend from Lorain, Jim Maschari, met with me at the Barley House along with his friend Ray and his wife. After inhaling a couple of quick drinks, we migrated to Bar Louie's for a bite and a " Snake Bite"; or four. On to the Drop Bar outside patio for some shots, and some pics with fans, including WWE's Derrick Bateman.
I walked past the "new" club, Martini 6 (formerly Sin) and ran into my bud Don Devries, the man of Martini 6. It was their grand opening with one of my fav bands "Iphonic" who put a great show; but I was kind of surprised they had a couple drinks before they went on, HA! (Look for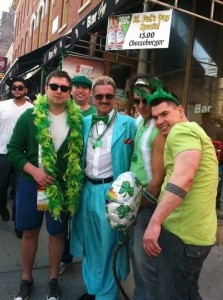 the soon to be released Iphonic music video, featuring your very own Superpimp)
What a blessed day, weather-wise. I ended my night on the roof of the Velvet Dog.
Thanx to all the fans who took pics and stopped to talk and party. You made my day! A special shoutout to the people of Cleveland; 500,000 strong only 21 arrests. A great example to other cities; let's keep it up!
- SP